Measuring Instruments
Work with static electricity requires special measuring devices if you want to conduct a reasonably systematic work. The instruments normally used by an electrician is not good enough because the reading metrics when working with static electricity is so extreme.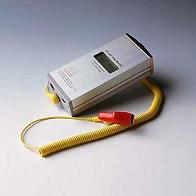 Hence, an ordinary multimeter is not suitable for measuring purposes, when the voltage is too high, the current is too low, and the resistance is too high. When talking about the measurement of static electricity in general, it refers to an electrostatic field strength which is measured without contact in kV / m and require field meter.
We have both a simpler instrument to work mainly with solving problems in production environments, and more skilled field mills for more accurate measurements and measurements in difficult environments. An excellent way to quantify a material's antistatic properties is to measure its decay time with a decay time instrument, which gives a direct image how the material is charged and discharged by a process. To control the measurement of potential of ionization devices and generators a high-voltage measurement probe is needed, which can be connected to a suitable multimeter. Among the more specialized instruments include the electrostatic voltmeter or high-voltage measurement probe with extremely high input impedance for the measurement of very small amounts of charge as field meters.