Lacquering
Support / Links - PDF > Applications_list

Lacquering



When lacquering motor vehicles the aim is to obtain a fine surface finish as possible - free of dust and particles. Together with including components that are used at the lacquering and properties of the surface, the result may vary depending on uncontrollable electrostatic forces that cause costly re-lacquerings.


Solution
A more even decorative texture and more predictable results can be achieved if one takes control of the electrostatic forces.
A simple solution is to use antistatic bars mounted on a trolley which is then drawn manually along a flat surface such as a truck chassis. If necessary, larger areas can be discharged with one of the antistatic is pulled out.
For more uneven surfaces an ionising antistatic gun is used. The quality of the lacquering may be further raised a level by using an antistatic gun equipped with laser beams. The laser beams helps the lacquerer to find the optimal angle to the surface that being charged so that dust and particles do not stick to the surface.


Installation
A typical configuration for this purpose is - two air blowing nozzles ABACA21, provided by dry and clean compressed air of 0.5-1.5 bar pressure, and an ionising antistatic gun BHAC11-G. The units are powered by a power unit PUAC114.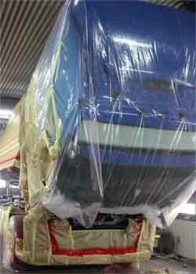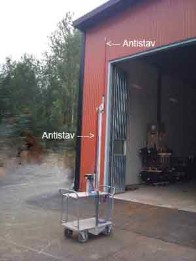 Eksjö Maskin & Truck is a company that has used the technique for over two years without any re-laquerings.